News:
last update June the 20th, 2021
Seminar
The 20th of January 2021 was online a seminar
RELIGIOUS SCENES ON DUTCH AND PORTUGUESE TILES – SIMILARITIES AND DIFFERENCES
by Hans van Lemmen about Dutch and Portuguese tiles organised by AZLab in Lissabon. To participate: go to the next link:
https://blogazlab.wordpress.com/
Exhibitions:
Otterlo, Nederlands Tegelmuseum,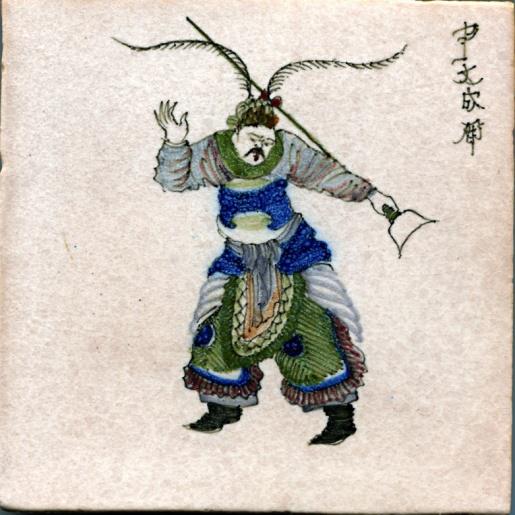 "Chinezen uit Makkum". – March 2021. The story behind the "chinese" tiles made in Makkum for the British market between 1935 and 1980.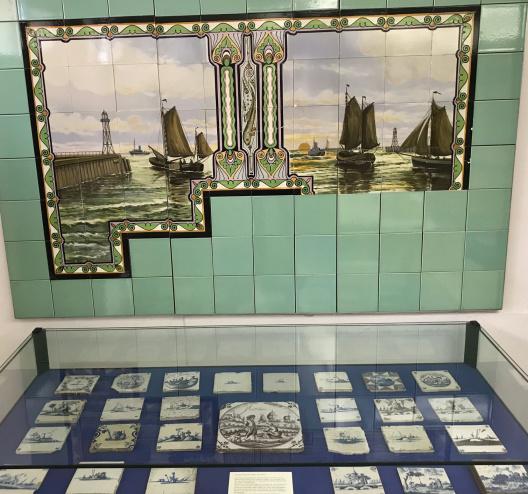 Theme "Fire beacon", one of the 7 stories
"Oogappels" 7 Stories of tile lovers with their favourite tiles. -- March 2021. Partially from the collection of the museum and partially from collectors. Themes are: Animal alphabet, Lighthouses and fires, Japonism and Aesthetic Movement, Biblical stories and tiles for Schools. Nederlands Tegelmuseum, Eikenzoom 12, 6731 BH Otterlo. Tel. +31-318-591.519.Open: Tue – Sun, 13 – 17 hr. www.nederlandstegelmuseum.nl
Amsterdam - Allard Pierson Museum, Exhibition: Godesses of the Art Nouveau. The Allard Pierson, in partnership with two museums in Germany, is compiling an exhibition about the international art nouveau movement. Key features of this style, which held sway throughout Europe from 1890 to 1910, are flowing lines and floral motifs. Another characteristic is the frequent depiction of beautiful females. from december 2020 to june 2021. Oude Turfmarkt 127, 1012 GC Amsterdam. Open: Tue – Sun: 10 – 17 hr. https://allardpierson.nl/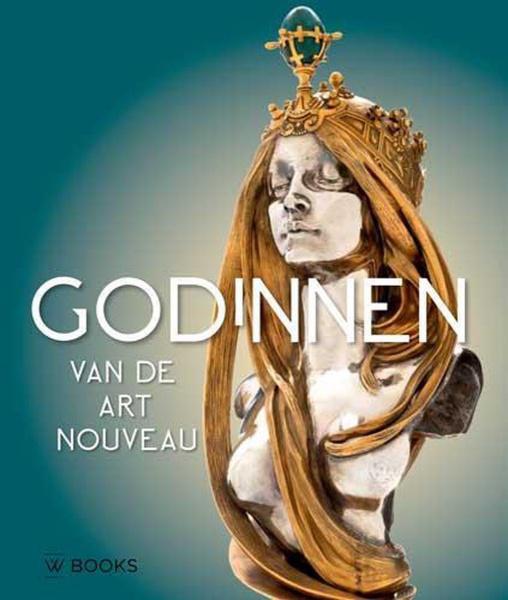 Delft,
Museum Prinsenhof, Jingdezhen. Porcelain capital of the world. In this autumn exhibition, more than 120 objects will be on display from Jingdezhen, the Chinese city to which Delft owes its successful Delft Blue industry and where porcelain of the highest quality has been produced since the 6th century. The museum will take you on a journey through the turbulent history of China and of Jingdezhen, the porcelain capital of the world, where porcelain production has never stopped, neither in times of great flourishing nor of decline. Discover the scope of Jingdezhen's influence on the porcelain industry worldwide. 12 February 2021 through 5 September 2021. Sint Agathaplein 1, 2611 HR Delft. Open: Tue-Sun from 11.00 to 17.00. https://prinsenhof-delft.nl/
Museum van Meerten, The former house Lambert van Meerten is open again. This house, build in neorenaissance style in 1893, contains a lot of old fragments of th e17th century, including tiles. Tickets are available from www.tickets.museumhuizen.nl Oude Delft 199, 2611 HD Delft. Open: Wed – Sun, 10 – 16 hr. www.museumhuizen.nl
Den Haag, Kunstmuseum, Exhibition:Chinese Glass,Imperial Treasure.Chinese glass is rare all over the word, as China does not have a culture of glass like in Europe, where glass has been used to make drinking vessels since the Roman period. Modern methods of glass production were introduced to China by French Jesuits in the late seventeenth century, as part of an exchange of techniques and materials. But unlike in Europe at that time, the Chinese did not attempt to produce colourless, transparent glass. They used it mainly to imitate other more valuable materials, like agate, quartz, garnet, jade, marble and porcelain.20 February 2021 till 24 May 2021. Stadhouderslaan 41, 2517 HV Den Haag Open: Tue – Sun: 10 – 17hr. www.kunstmuseum.nl
Zaandam, Zaans Museum. This year, the museum recieved a large tile panel concerning the Bischoff company of fashion stores. The company was established in 1895 by Wilhelm Bischoff ( 1871-1941). For the silver jubilee in 1920 the staff of the company donated the panel depicting the various stores with the opening years. Descendants of Wilhelm donated the panel which hung in the main office of the company in Zaandam. Zaans Museum, Schansend 7, 1509 AW Zaandam. Open daily: 10 - 17 hr.
https://zaansmuseum.nl/bischoff-tableau/
France
Musée de la Céramique à Desvres. In the north of France, close to Calais. Changing exhibitions with a vaste collection of locally produced ceramics, including tiles. Rue Jean Macé, BP 107, 62240 Desvres, open: Tue – Sat, 10 – 12.30 and 14 - 17 hr. Sun, 14 – 17 hr. https://www.musee-ceramique-desvres.com/
Palais Beaux-Arts Lille, general art, paintings, decorative arts with ceramics and tiles. Place de la République, Lille. Open: Mon 14 – 18 hr. Wed – Sun 10 – 18 hr. https://pba.lille.fr/en
Germany
Aachen, Elisabethhalle, indoor swimmingpool in Art Nouveau style dating from uit 1911. It survide two wars ! Youi can swim in a hall with a lot architectural ceramics of the period around 1910. Elisabethstrasse 10, 52062 Aachen. Closed on sunday. www.elisabeth-halle.de or https://www.aachen-tourismus.de/en/discover/sights/details/elisabethhalle/
Dormagen, Kreis Museum Zons. Museum with a large collection of jugendstil tiles.
Sclossstrasse 1, 41541 Dormagen. Open: Tue-Fri, 14 – 18 hr. Sat/Sun, 11- 18 hr.
https://www.rhein-kreis-neuss.de/de/freizeit-kultur/kreismuseum-zons/
Japan
INAX Museum, Aichi, The Tile Museum, The Tile Museum is a unique museum in Japan that specializes in the history and development of decorative tiles, providing visitors with an opportunity to discover how tiles have influenced and enriched people's lives over centuries. 1-130 Okuei-cho, Tokoname-shi, Aichi Prefecture 479-8586 Japan. https://www.livingculture.lixil/en/ilm/museum/
Malaysia
Islamic Arts Museum of Malyasia, with an extensive collectioen of ceramics including a lot of tiles.
Jalan Lembah Perdana, 50480 Kuala Lumpur
https://www.iamm.org.my/galleries/ceramics/
Portugal
Museu Berardo Estremoz, 800 year tiles. A new museum in an old town "palace" showing tiles from about 1250 to now. Including tiles from Persia, Marocco, Spain and Holland.
Largo Dragões de Olivença, 100, Estremoz. Open: daily 9 – 19 hr, except holidays.
Spain
Valencia, Museo Nacional de Cerámica – Palacio Marqués de Dos Aguas, Ceramics and tiles.
Calle Poeta Querol 2, 46002 Valencia, Open: Tue - Sat: 10 –14 hr and 16 – 20 hr, Sun- and holidays: 10.00–14.00 hr, keep 2 meter distance.
http://www.culturaydeporte.gob.es/mnceramica/home.html
Exhibition: Gaudi & Trencadis. An exhibtion with samples of the ceramic mosaics, "trencadis" made by Antoni Gaudi for his projects in Barcelona. Trencadis is made of broken glass, tableware and tiles. The exhibtion is open til the 31st of January 2021.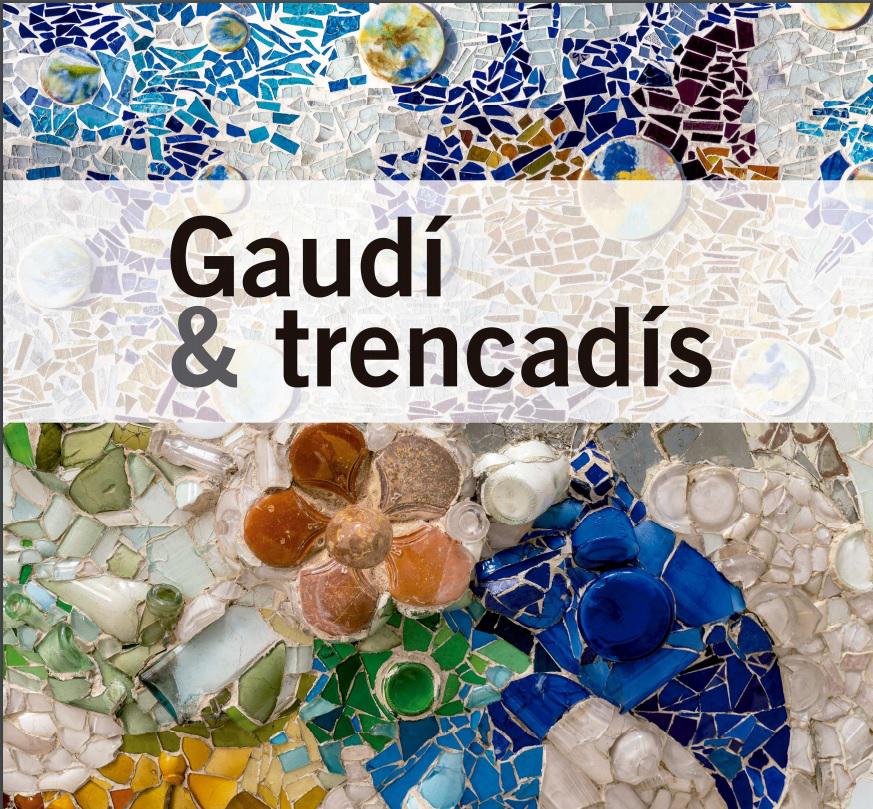 see : http://www.culturaydeporte.gob.es/mnceramica/actividades/exposiciones-temporales/en-curso.html
Publications:
Netherlands
Max Put. Art Nouveau in Amsterdam 1895-1910. Amsterdam is beroemd om zijn architectuur, maar Art Nouveau is er nauwelijks te vinden. Hiervoor moet je naar Den Haag of naar steden als Brussel en Parijs. Amsterdam was er te nuchter voor, zo luidt de gangbare mening. Auteur Max Put schetst in dit prachtig geïllustreerde boek echter een heel ander beeld: Amsterdam is buitengewoon rijk aan gebouwen met kenmerken van de Art Nouveau. Een apart hoofdstuk, geschreven door Pim van Schaik, van 38 bladzijden met veel foto's is gewijd aan tegels. 256 Pagina's. Uitgever: Stokerkade cultuurhistorische uitgeverij, Amsterdam 2020. ISBN 9789079156481.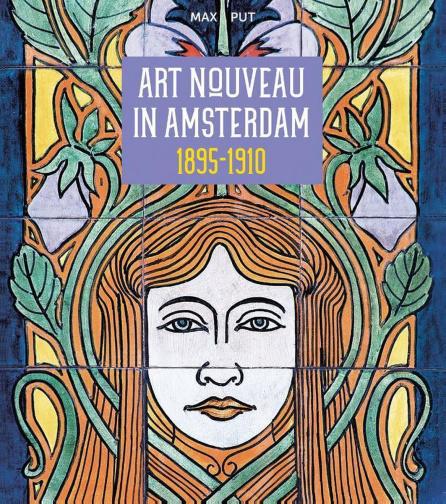 Jan Pluis and Min Chen. Dutch tiles with Chinese pictures, made by Tichelaar in Makkum after 1930 for the British market. Over 250 pictures in Dutch and English. 96 Pages. Publisher: Primavera Pers. ISBN 978-90-5997-294-0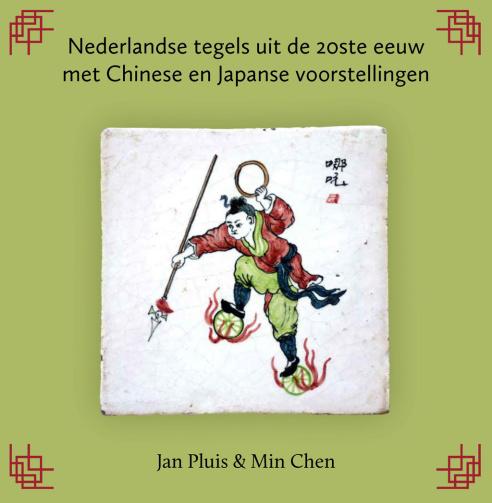 France
Hélène Dauga. Faïences et Façades en Hyères.
Bouwaardewerk & tegeltoepassingen in de belle epoque in Hyères, een geliefd overwinteringsoord aan de Middellandse Zee in Zuid-Frankrijk.
Frans. 312 pp. Association la Sauvette, 8 bis rue du Puits, 83400 Hyères, Frankrijk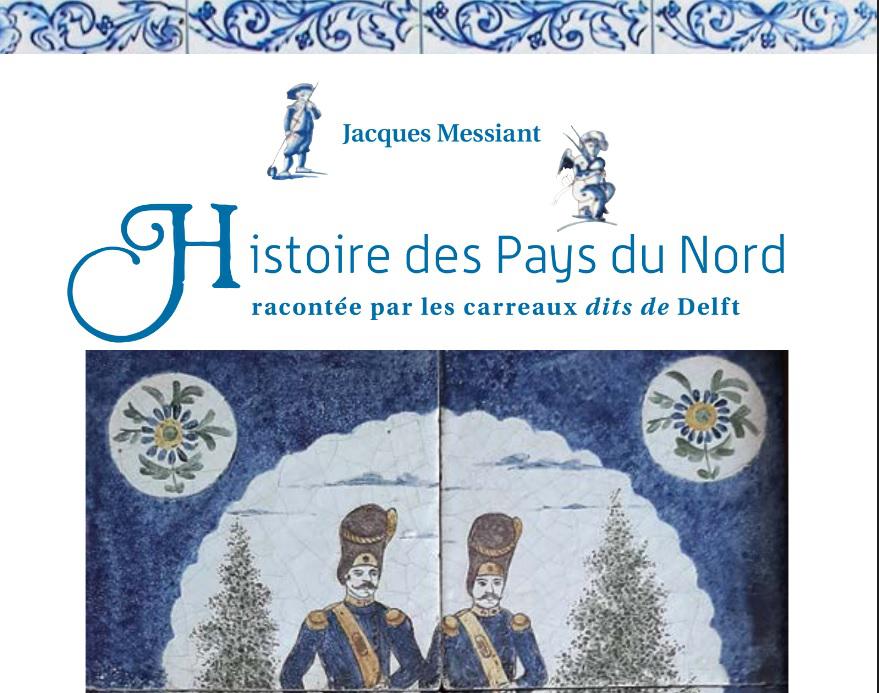 Jacques Messiant, Histoire des Pays du Nord, racontée par les carrreaux dits de Delft. Een overzicht van verschillende tegels die met hun afbeeldingen verwijzen naar het leven, de cultuur en de geschiedenis van noord Frankrijk. Veel plaatjes en tips van musea met tegels.
Frans. 200 pp. Editions du Signe. www.editionsdusigne.fr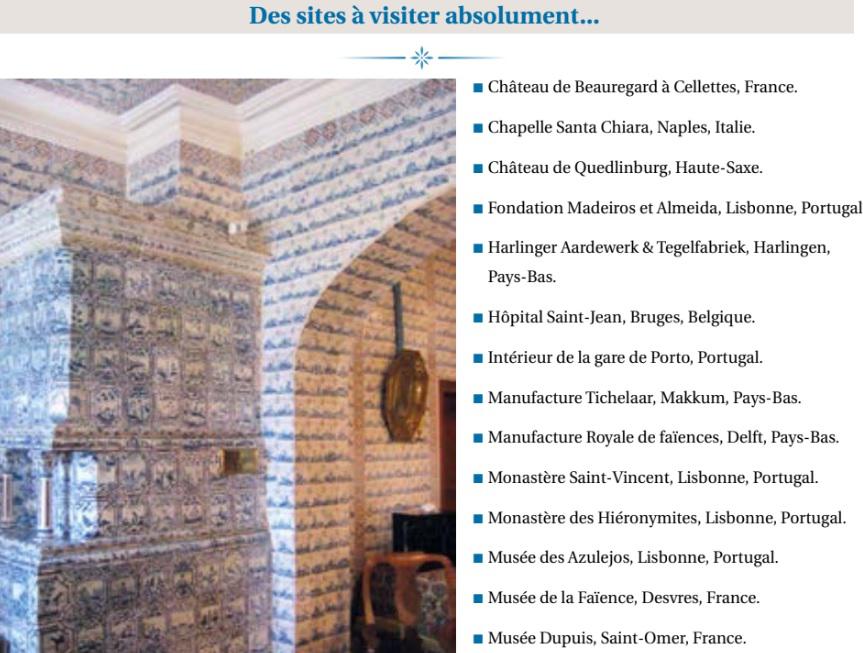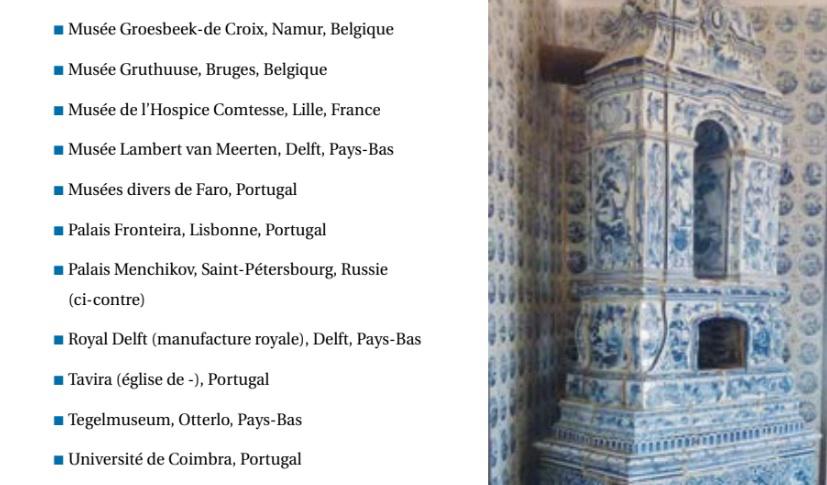 Germany
Dr. Bernd Röder, Die Servais-Werke. Künstlerisch anspruchsvolle Keramik aus Ehrang, an overview of the production of the Servais facatory in Ehrang near Trier, famous for jugendstil tiles. German, p.p.60, € 6,50. To order: Stadtmuseum Trier, http://m.museum-trier.de/shop/
Buch zur Ausstellung über die "Ransbacher Mosaik- und Plattenfabrik", Es ist für den Preis von € 15,- erhältlich in der Kannenbäcker Bücherkiste in Ransbach-Baumbach, dem Keramikmuseum Höhr-Grenzhausen, dem Tonbergbaumuseum Siershahn sowie im Buchladen "Mein Buchhaus" in Wirges. http://keramikerleben.de/
Günther Kallen , wissenschaftlichen Bestandskatalog der Sammlung "Fliesen im Jugendstil: Die Sammlung Beatrix und Axel Vater", Kreismuseum Zons, € 16,-. Bestellen: per E-Mail unter Dit e-mailadres wordt beveiligd tegen spambots. JavaScript dient ingeschakeld te zijn om het te bekijken. oder per Telefon unter (0049) (0)2133/53020.
Japan
Japan-made Majolica Tiles: Trail of Inspiration, LIXIL Publishing, 2018 , ISBN 978-4-86480-915-3, catalogue of 64 pages with many illustrations in Japanese (978-4-86480-915-3) with a contribution in Japanese of Aki TOYOYAMA on A Passage to Independence: Japanese Majolica Tiles in India, Sri Lanka, and Myanmar, accompanying an exhibition at the INAX Tile Museum.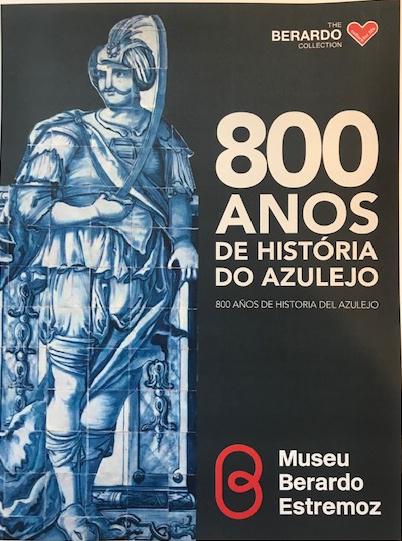 Portugal
Museu Berardo Estremoz, 800 year tiles. Catalogue: download on page 3 https://museuberardoestremoz.pt
Russia
THE ADVENTURES OF 18th-CENTURY DUTCH TILES from the Hermitage Collection in the Kingdom of the Netherlands of the 21st Century, by Yuri Molodkovets (pictures), Ekaterina Andreeva and Roxana Rebrova (text). 120 pages.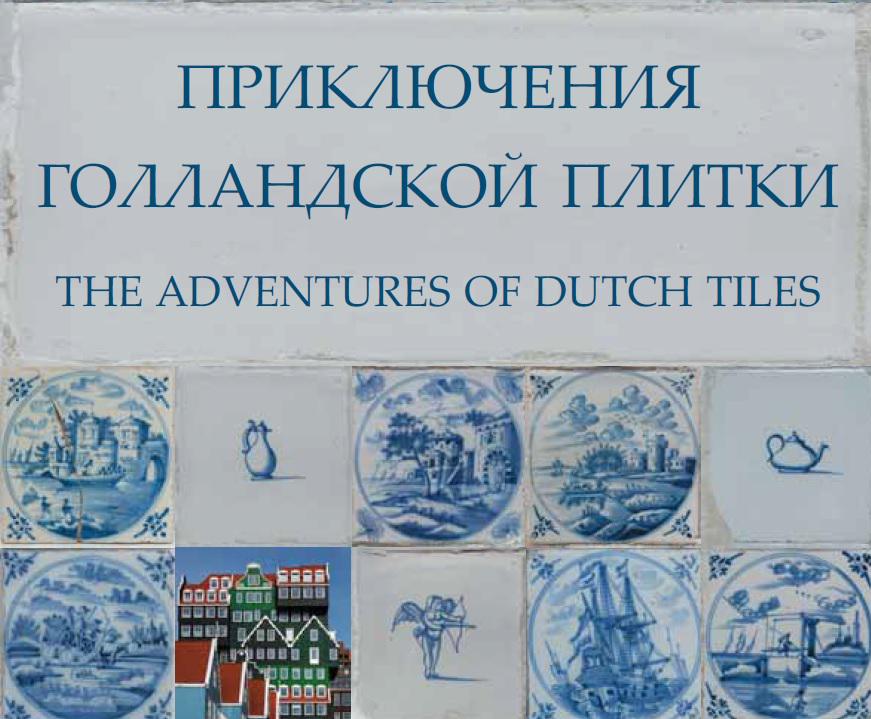 A report of 3 Russians who visited Holland in 2019 to find parallels between the images on the tiles of the early 18th century and the modern life of the inhabitants of the Lower Countries. These tiles had been brought to Russia during the reign of Tsar Peter I, the Great. Some are still in situ and others have been removed and ended as debris. Some of these removed tiles haven been recovered in th 1970's and are now in the collection of the Hermitage Museum. In this book various tiles can bee seen with pictures of nowadays Holland. The idea was supported by the General Director of the State Hermitage Mikhail Borisovich Piotrovsky and the Consulate General of the Kingdom of the Netherlands in St Petersburg.
When the book is available for the general public is not clear yet.
On the internet:
Nederland en België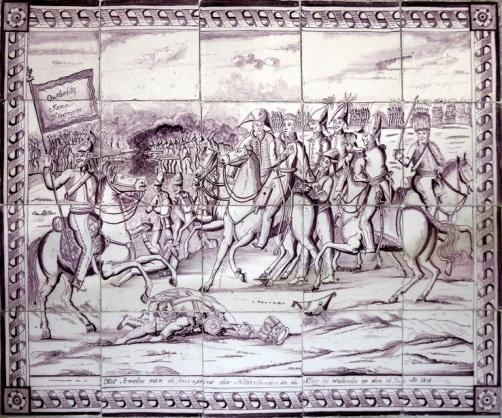 Uitgebreid verslag over tegels van de slag bij Waterloo (1815) door Wilhelm Joliet met medewerking van Jan Pluis
http://www.geschichte-der-fliese.de/waterloo.html
Nederland
De website over Nederlandse antieke tegels en (Goudse) kleipijpen, https://www.spijkertegels.nl/
recente aanvullingen: https://www.spijkertegels.nl/mensen/plassers-kakkers-kotsers
https://www.spijkertegels.nl/rijden-en-varen/roeiboten
https://www.spijkertegels.nl/mensen/boerenbedrijf
https://www.spijkertegels.nl/mensen/akrobaten-artiesten
Schouw uit Koudekerk aan den Rijn in het Nederlands Tegelmuseum Otterlo
www.tegels-uit-rotterdam.com/koudekerk.html
Amsterdam - Rutger Brandt Gallery. Remaining Fragments. Timo Grimm.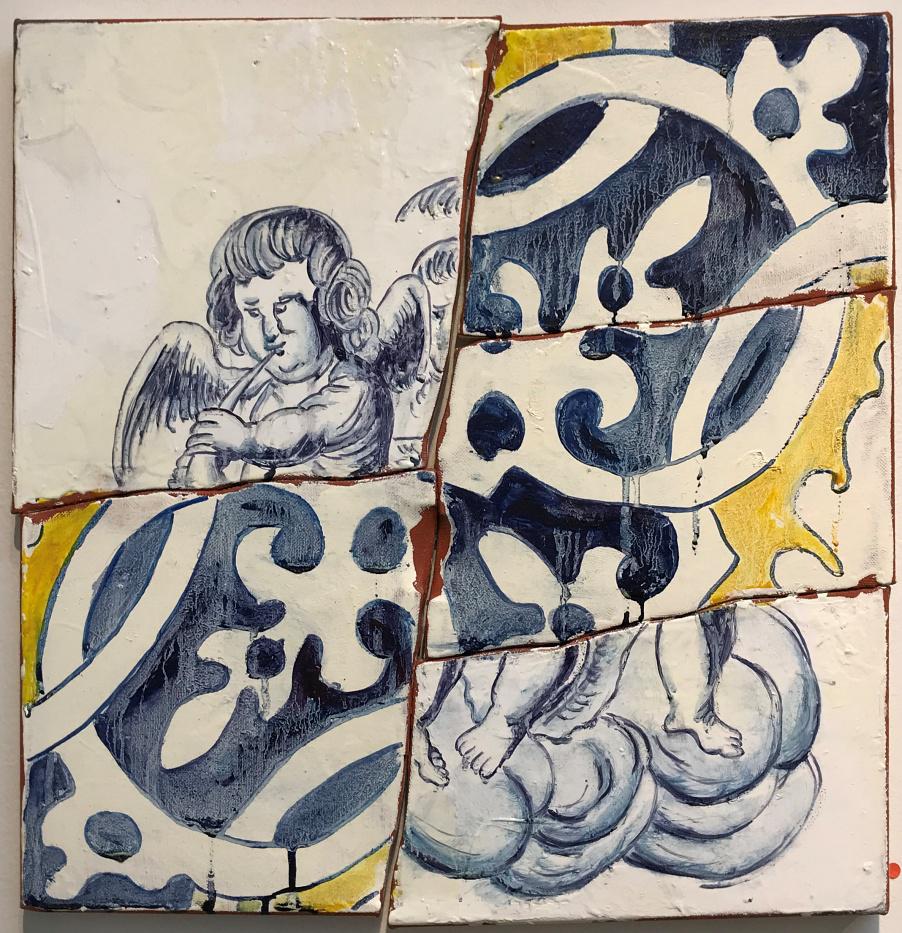 Paintings inspired by old Dutch tiles on canvas by the German artist Timo Grimm.
Amsterdam, Rijksmuseum. Veel tegels op haar website.
https://www.rijksmuseum.nl/nl/zoeken?q=tegel&v=&s=&ondisplay=False&ii=0&p=1
Amsterdam, Koninklijk Oudheidkundig Gezelschap. Het KOG heeft in haar colllectie veel tegels. Een deel is inmiddels zichtbaar via haar website.
Zie https://kog.nu/collectie/?search=tegel
Den Haag, Kunstmuseum. Tegels uit de collectie online:
https://www.kunstmuseum.nl/nl/collectie/zoeken?origin=gm&search=tegel
Rotterdam, Museum Boymans. Op haar website veel tegels uit de collectie.
https://www.boijmans.nl/collectie/kunstwerken?query=tegel
Leiden, Museum de Lakenhal
https://www.lakenhal.nl/nl/zoeken/collectie
Makkum, Tichelaar, (auf Deutsch) Wandfliesen und Fliesentableaus von Tichelaar Makkum, dem ältesten keramischen Werk der Niederlande
http://www.geschichte-der-fliese.de/tichelaar.html
Vianen, 'Mettlacher Mosaikplatten' in de O.L. Vrouw ten Hemelopnemimgkerk Vianen
https://www.geschichte-der-fliese.de/vianen-nl.html
Belgium
Rotterdam tiles in Onze-Lieve-Vrouwehospitaal in Kortrijk
http://tegels-uit-rotterdam.com/olv.html
Germany
Deutsche und niederländische Fliesen des 18. Jahrhunderts
aus dem Gartenpavillon des Schlosses Seußlitz

http://geschichte-der-fliese.de/disega.html
Landschafts- und Bibelfliesen an einem offenen Kamin im Wasserschloss Assen
www.geschichte-der-fliese.de/assen.html
Mettlacher Mosaikplatten in de Sint-Anna-Kapel, Haltern am See
http://www.geschichte-der-fliese.de/mmh.html
Amsterdamse tegels uit de 18e eeuw in een barokhuis, Markt 23, Grimma / Sachsen
http://www.geschichte-der-fliese.de/grimma.html
The collection of Beatrix and Axel Vater in Kreismuseum Zons, over 600 jugendstil tiles.
https://rheinland.museum-digital.de/index.php?t=sammlung&gesusa=131
Poland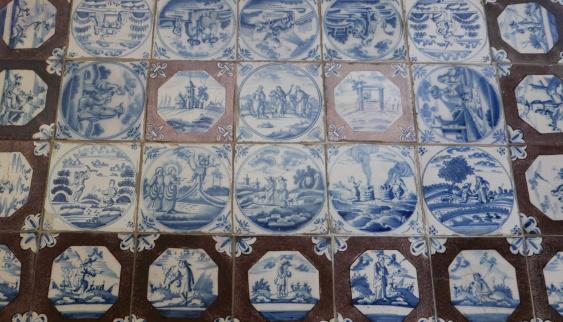 Beata Grudziecka is constructing a website with Dutch tiles Holenderskie Flizy in Poland. The first part ( in Polish) can now be seen with a lot of pictures.
Portugal
De pracht van de Azulejos in het klooster van São Vicente de Fora in Lissabon
Deel 2: 'Galeria dos Patriarcas'
www.geschichte-der-fliese.de/svdf2.html
Museo Berardo has many of her tiles online:
https://www.berardocollection.com/?sid=50004&CID=101&lang=en
United kingdom
London, British Museum. They have a large collection of various tiles, also online. Not easy to select just square tiles. Here e.g. the collection of Minton Tiles. You can select on various keywords.
https://www.britishmuseum.org/collection/search?keyword=minton&keyword=tile
London, Victoria and Albert Museum. Delft tiles in their collection:
https://collections.vam.ac.uk/search/?listing_type=imagetext&offset=0&limit=15&narrow=1&extrasearch=&q=tile+delft&commit=Search&quality=0&objectnamesearch=&placesearch=&after=&before=&namesearch=&materialsearch=&mnsearch=&locationsearch=