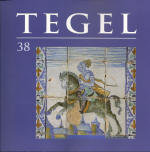 includes articles on following subjects:
Print and Tile
Seventeenth-century tile pictures based on prints by Goltzius and De Gheyn
Prosper de Jong - page 4
A set of six polychrome tile pictures from the early seventeenth century (1608-1625) were excavated in Amsterdam around 1982. They show Roman heroes, horsemen and a soldier, and are based on prints by Hendrick Goltzius and Jacques de Gheyn II. Two comparable tile pictures, based on prints by Crispijn de Passe I and De Gheyn, are in the collection of the Rijksmuseum, Amsterdam. The place of production cannot as yet be established, but there seems to be a connection with blue tile pictures with a gate-like border that were produced at a later date. The choice of Roman heroes and soldiers may derive from the Dutch struggle against Spanish rule. Originally this kind of tile picture may have been applied on either side in a fireplace wall.
Tekfur Sarayı: A brief but fascinating period in the history of Turkish tiles
Hans Theunissen - page 12
Because the supply of tiles from Iznik and Kütahya was coming to a standstill, grand vizier Ibrahim Paşa took the initiative of establishing new tile workshops in Istanbul, which started production around 1720-1725. These workshops, which were housed in the former Byzantine Tekfur Sarayı palace, employed craftsmen from Iznik and possibly also from Kütahya. The question whether the workshops were still active after 1735 can be answered in the affirmative, in view of the finds of tiles in buildings in Cairo dating from the years 1745 to 1751.
The tiles from the Tekfur Sarayı workshops appear to have been available mainly to the elite of the Ottoman Empire: the Sultan and his chief dignitaries. This may explain the remarkable swiftness and diversity of their stylistic development in spite of the workshops' brief existence from ca. 1725 till 1751: not only the revivalist style but the Tulipomania fashion (1728-1735) and the baroque-rococo style (from ca.1745), too, were closely imitated.
Windmills on tiles
Marten Boonstra - page 19
Windmills have been prominent features of the Dutch countryside for centuries, which is reflected in the numerous eighteenth and nineteenth century landscape tiles that depict them. Various types of windmill are found, as well as a variety of tile borders and corner motifs. The tiles in the illustrations date approximately from 1675 to 1940.
Frederick Garrard and his copies of Dutch tile designs
Chris Blanchett - page 27
To meet the demand for hand-made tiles inspired by the Arts and Crafts Movement, Frederick Garrard produced a range of tiles based on original Dutch seventeenth-century polychrome tiles from his pottery in Millwall, London during the late nineteenth and early twentieth centuries. The tiles are often mistaken for Dutch originals – this article seeks to set the record straight and place Garrard's products firmly in context. Identification and production are also covered.
Interchange of tile designs between different manufacturers
Jan Pluis - page 34
Manufacturers not only developed new tile designs in the course of the centuries but also reused old ones, and even copied or used designs from other tile works and potteries. In a number of cases tile painters took sponsen (pricked stencils) with them when they moved to another company. Utrecht designs for bible tiles from the seventeenth century are found on Harlingen tiles from the early eighteenth century, and Harlingen motifs are found on Utrecht tiles from around 1800. A set of sponsen depicting warriors that possibly came from Delft found its way partly to Rotterdam, partly to Harlingen.
At the end of the nineteenth century a similar interchange, on an international scale, took place between industrial tiles from Germany and England and Dutch hand-painted tiles.
Not so much a passion, more a hobby - Interview with Lida Brouwer-Brand
Lejo Schenk - page 43
Interview with Lida Brouwer-Brand, born in 1917, who looks back on her life. Her principal hobby, which she does not want to call a passion, has been collecting and studying tiles. She explains how her interest in tiles extended to related prints. The connection between tile and print formed the basis of a series of articles in Tegel. Special attention is given in the interview to her study of seventeenth-century flower tiles, which led to an article in Tegel 19 (1991).