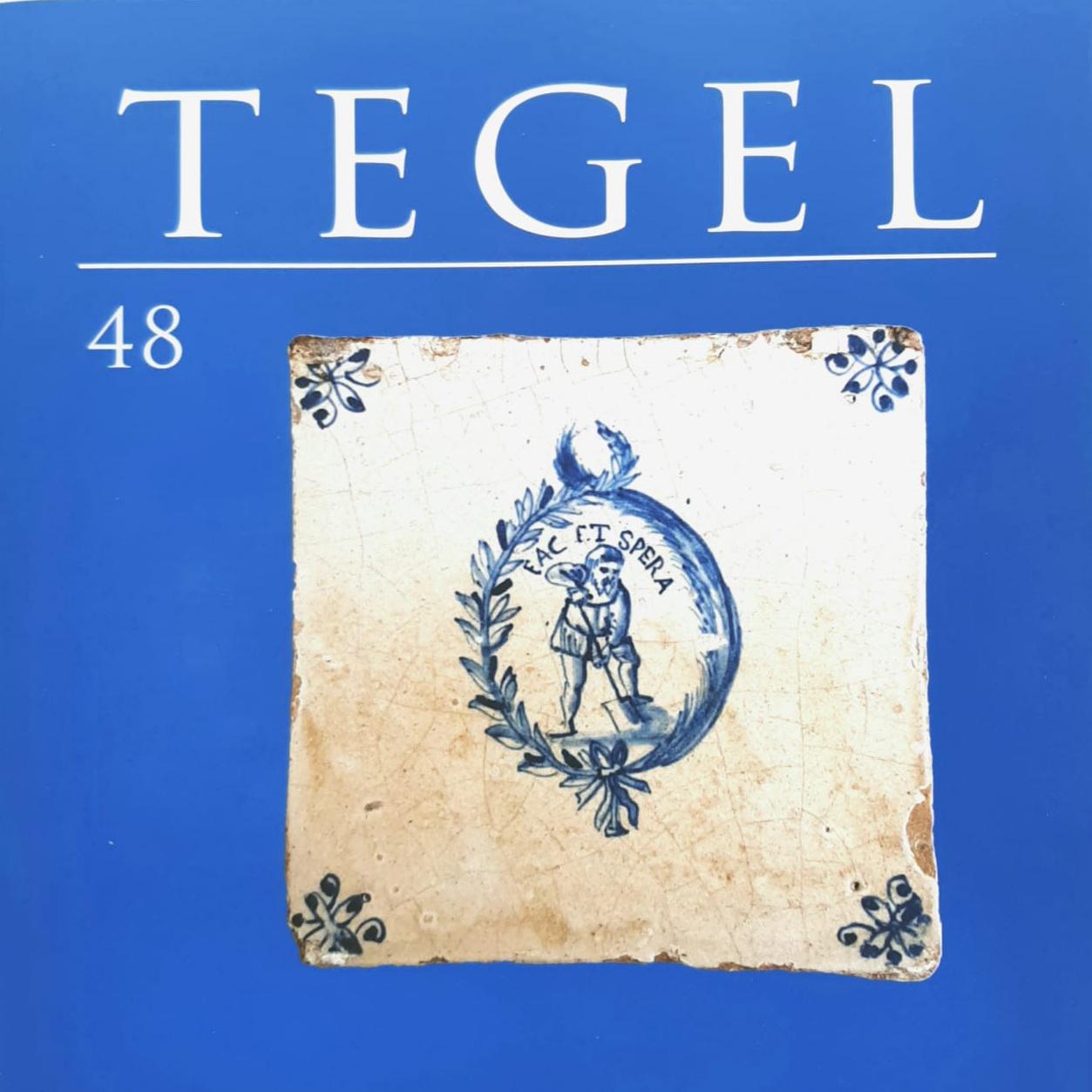 includes articles on following subjects:
Fac et Spera – Do and Hope
The Story behind a Leiden Printer's Mark on Tiles
Leo van Druten and Lejo Schenk
A curious tile showing a man digging, surrounded by two half garlands – possibly an olive branch and ears of wheat – and the text FAC ET SPERA, is discussed in some detail. A comparable motif appears on the seal of the Dutch Reformed Church in Delft, an early impress of which from 1589 is known. On this seal the man digging (who might be seen as Adam after his expulsion from the Garden of Eden) is depicted with the Tetragrammaton JHWH, but without the motto 'Fac et Spera'.
The first occurrence of the motto is found in the emblem book Centuria Secunda from 1613 by Gabriel Rollenhagen, the image having been designed by Crispijn van de Passe the Elder and Jan Jansson the Elder. The motto not only has religious connotations, it also refers to the humanist notion of labour as an opportunity for man to develop himself. A print with caption by Claes Jansz. Visscher after Abraham Bloemaert also allows for a socio-critical interpretation of this digging Adam.
The motto in question is encountered as the device of various publishing houses. The illustrious Leiden printer Joannes Maire (1576/1578-1660) used this device the longest. He may very well have commissioned the tiles.
Antique Monuments from Ancient Rome on Tiles
Jan Pluis
Some eighteenth-century landscape series show features of Roman and Italian architecture. Starting in the sixteenth century, many artists from north-west Europe crossed the Alps. Their depictions of monuments and antiquities made the classical style known in their home countries. On some tiles the monuments are easily recognizable, such as Trajan's column with Santa Maria di Loreto and the church of San Bernardo alle Terme. The tiles were made in Rotterdam, as early as in Cornelis Boumeester's time, and shortly afterwards in Amsterdam as well. The Ravesteijn Bros. Tile Factory in Utrecht possessed the original designs at the end of the nineteenth century and made a new set of tiles from them.
The Tiled Bathroom at Rambouillet Castle
Johan Kamermans
The 2019 Yearbook of the French National Ceramics Museum at Sèvres contains a well-documented article about the bathroom at Rambouillet Castle. The Count of Toulouse had it constructed in the years 1730-1736 for himself and his wife with sumptuous tile-clad walls: over a thousand landscape tiles, four polychrome flowerpot tile pictures, and two harbour scenes signed by Cornelis Boumeester. Renaud Serrette, the author of the article, establishes that the flowerpot pictures were acquired second-hand for restoration purposes in the years 1778-1779. There is also a tiled floor for which the tiles were commissioned in Valencia. Unfortunately the author failed to consult recent Dutch literature indicating that not only the harbour scenes, but also the polychrome flowerpot pictures and the numerous landscape tiles were painted by Boumeester himself.
Tile Pictures of Animals Made by Ravesteijn/Westraven Bros. after Lithographs by Joseph Scholz
Jan Pluis
In about 1900 the Ravesteijn Bros. Tile Factory in Utrecht (known after 1908 as Westraven) added a range of animal pictures to their assortment. These were based on lithographs by the German publisher Jos. Scholz in Mainz. The discovery of twenty lithographs from the former Westraven factory, some of them pricked to make sponsen, led to a closer look at the currently known tile pictures (thirteen images).
Shop Fronts in Architectural Ceramics Made by De Porceleyne Fles for De Gruyter, BOKA, Zijlstra and Albert Heijn
Bart Verbrugge
Between 1918 and 1940 De Porceleyne Fles Pottery (currently Royal Delft) made about 130 shop fronts in architectural ceramics for De Gruyter, a major grocery retailer of the day. G. Welsing (1858-1942), their in-house architect, designed 55 of these shops till 1928. He was succeeded by the architect T.P. Wilschut (1905-1961). The majority of the shop fronts consisted of mottled bright blue glazed tiles, with the company's name in gold. Up to and including the year 1924 they were executed in a stylized historicizing style, afterwards in Art Deco style. From 1934 the shop fronts were carried out in a sober modernistic style. Two other grocery retailers, Zijlstra and Albert Heijn, had their shop fronts executed in architectural ceramics, too, as well as BOKA, a more downmarket De Gruyter shop. Some of them were also produced at De Porceleyne Fles Pottery. The fashion for architectural ceramic shop fronts disappeared after 1945. Many old shop fronts were demolished after De Gruyter's bankruptcy in 1977, and only about fifty have been preserved, as well as five Albert Heijn and three Zijlstra ceramic shop fronts.
Cees van Sabben and his Son Arno: the Family Firm of a Teacher and a Dancer
Lejo Schenk
Tegel editor Lejo Schenk meets 88-year-old Cees van Sabben and his youngest son Arno. Cees swapped his teaching post for a career as a dealer in antique tiles, even running a specialized auction for many years. At his clients' request, he started removing tiles from buildings and placing them in other premises. Arno, who was a talented classical dancer, helped him from a young age and decided to continue his father's business. Currently the emphasis is on preserving large ceramic objects from the twentieth century, which are often threatened with demolition. Father and son both talk frankly about their work, their outlook on life and – of course – about tiles.