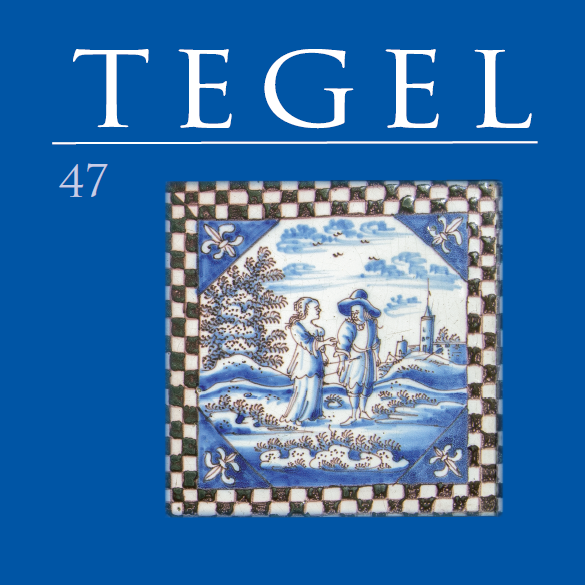 includes articles on following subjects:
The Rotterdam Equestrian Portrait of Julius Caesar
Reinhard Stupperich
In the collection of the Rotterdam Museum is a tile picture of Julius Caesar on horseback, dated 1640, which was found on the premises that once housed the Valckenhoff family tile works. It may have been intended as the first panel in an arcade of equestrian portraits. These were modelled on designs by Johannes Stradanus of the twelve Caesars, described in Suetonius' De Vita Caesarum. The designs were used for a set of prints by Adriaan Collaert, Servatius Raeven and, in a simplified form, by Crispijn de Passe. Although the painter of the tile picture, too, simplified the image, comparison of attire and hair show that he used the more detailed print by Collaert.
Two Unknown Tile Pictures by Eijbert Pieters
Marten Boonstra
Some two years ago it was discovered that two Biblical tile pictures could be attributed on stylistic grounds to the eighteenth-century painter Eijbert Pieters. These pictures are situated in a fireplace in one of the annexes attached to the Great or Saint Bavo's Church in Haarlem. They depict the finding of Moses by the daughter of the Pharaoh (Ex. 2:5-6), and the reception of Judith by Holofernes (Judith 10:22-23).
Eijbert Pieters (1667-1731) was a freelance artist and decorator from Harlingen, who made designs and painted tiles for a range of Frisian potteries. The decorative elements that Eijbert abundantly applied in the borders were inspired by graphic examples from the work of Daniël Marot (1661-1752).
Tiles with a Chequered or Strapwork Border
Jan Pluis
Rare Dutch tiles with a chequered or strapwork border were first published by J.M. dos Santos Simões in 1959. These tiles depicting shepherds and landscapes were applied in Casa Lomas in San Fernando (Spain), which was built in the years 1745-1757. Santos Simões attributed them - with some reservation - to Delft. Since the publication of his book tiles with these borders, in some cases with Biblical scenes, have only very occasionally been found. They prove to have been based on prints by Pieter Schut, which points to their manufacture in Amsterdam. Comparison with tiles with carnation corner motifs depicting the same scenes made in Amsterdam indicates a date round 1740. Landscapes and pastoral scenes, similar to those found in Casa Lomas, were also painted in Amsterdam.
Large Format Tiles, 20 x 20 cm

Jan Pluis
In the period 1890-1930 three of the five earthenware and tile factories in the Netherlands producing tin-glazed tiles started making series in a 20 x 20 cm format. These tiles were not made in large numbers or elaborate series, but could be hung on the wall singly as decorative objects. Only the sponsen (pricked stencils) of some of the series and tiles have been preserved, which indicates a very limited production.
Among them were old Dutch decors, including Biblical scenes, but also tiles modelled on Spanish, 'Persian' and Chinese examples. The widest range known to us was made by Tichelaar earthenware and tile factory (nowadays Royal Tichelaar Makkum), which continued production of these tiles until shortly after 2000.
View of Venice by C.A. Lion Cachet
Reinhard Stupperich
In Tegel 44 (2016) Friggo Visser described a test piece for a tile picture by the artist C.A. Lion Cachet, which once belonged to the historical collection of the former Art Studio Goedewaagen-Distel, but is now in the Dutch Tile Museum. It is a partial view of Venice executed in score-cut technique. Various Venetian townscapes are known to have been made for the smoking saloon of the MS P.C. Hooft. One of these turns out to have been modelled on a woodcut by the fifteenth-century Utrecht artist Erhard Reuwich, who made this and other drawings while on a pilgrimage to the Holy Land. These were published in a report of the journey, Peregrinatio in terram sanctam (Mainz 1486).
Evert van Gelder: Entrepreneur, Collector of Bible Tiles and Seasoned Treasurer
Lejo Schenk
Lejo Schenk chats with Evert and Tine van Gelder. For many years Evert was treasurer of the committee of the Foundation of Friends of the Dutch Tile Museum. In his professional life, he built up a business with his wife supplying pharmaceutical products to veterinary surgeons. Collecting Dutch Bible tiles became his great hobby after his Roman Catholic wife Tine gave Protestant Evert a present of a tile depicting the Crucifixion. He later amassed one of the largest collections in this genre. A great many of his pieces were used as illustrations in the German Fliesenbibel (Tile Bible) and other publications. He regularly organizes exhibitions and gives lectures about specific Biblical themes on tiles. Evert is also an active member of a traditional Civic Shooters' Guild and serves, usually as treasurer, on the committee of a range of organizations and historical societies.