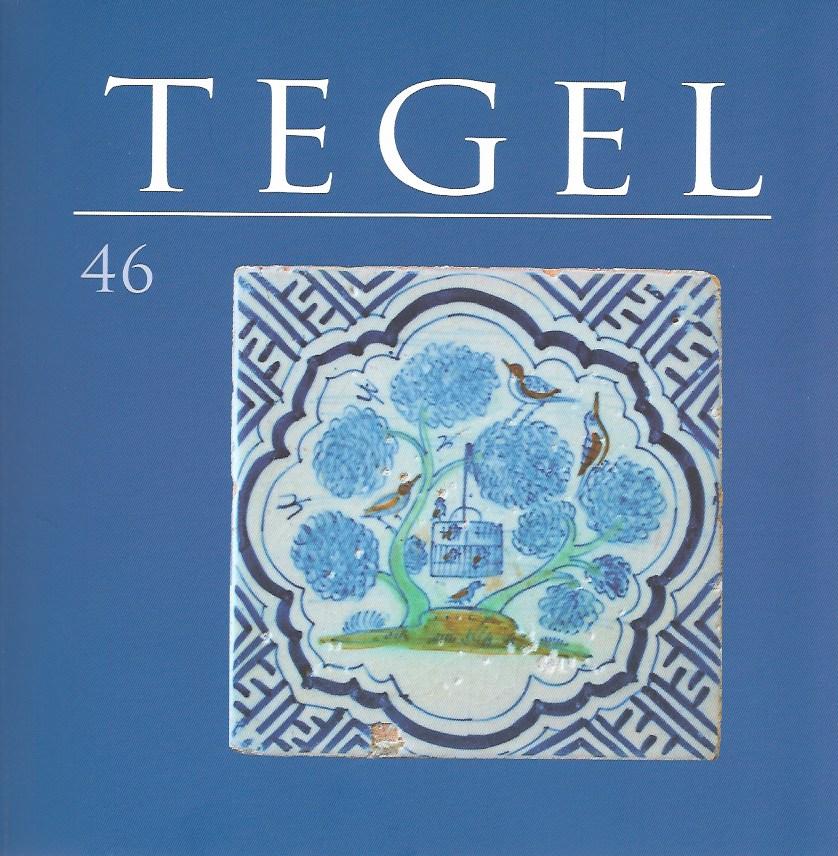 includes articles on following subjects:
Trap Cage and T-perch: Fowling on tiles
Lejo Schenk
People have trapped birds for centuries, for decorative or culinary reasons. The Netherlands have a rich graphic tradition in this field and the keen observer spots this tradition on tiles.
At our Friends' annual meeting in 2016 a tile was shown depicting a cage hanging in a tree with birds in it and on it. Our former Museum Director Piet Bolwerk recognized it as a trap cage with a decoy bird in it. Further research has led to tiles with the children's game of trapping birds, tiles with an owl on a T-perch as decoy, lime twigs, nets, or a cage in a tree. These tiles recall a part of our cultural heritage that is almost forgotten.
Saints on Fireplace Bricks
Minne Iedes Nieuwhof
In the sixteenth and early seventeenth century, before wall tiles were manufactured on a large scale, fired bricks (10 x 13-16 cm in size, and c. 5 cm thick), with an image in relief, were used for the back wall of fireplaces. These 'fireplace bricks' were usually made in the Liège and Antwerp regions. The images on the bricks were cut out mirrorwise in wooden moulds, into which the clay was pressed. This article describes images of saints on these bricks. St Hubertus and St George in particular are frequently depicted on fireplace bricks; only one slab representing St Martin is known.
Print and Tile
A Fort with Many Cannons
Marten Boonstra
Some years ago the author acquired a pair of landscape tiles depicting an unusual subject: a fort with cannons sticking out, surrounded by water. These tiles, of the type landscape in octagon with arcs (DNT B.12.00.17), were probably made in Rotterdam in the years 1730-1760. This fort was also depicted with other borders and corner motifs.
Research on this intriguing image led to its source - a depiction of fort Rammekens, which was built on the Western Scheldt estuary to protect the shipping lanes to Middelburg and Antwerp.
Jos Merckelbagh (1857-1922)
Jan Pluis
The applied arts specialist J.W.N. (Jos) Merckelbagh is best known for his leather-tooling, but he was a ceramics painter as well – at the Porceleyne Fles in Delft in 1884, and then for a few years in Berlin. In 1890 at the School of Applied Arts in Utrecht he took a course in 'Draughtsmanship (tile work)'. In the same year he produced 28 tile pictures for the gentlemen's club Sic Semper. Both the pictures and the building had been designed by the Director of his School, P.J. Houtzagers. Which tile factory he collaborated with, in Utrecht or Harlingen, is unknown.
This article shows that blue and white tiles with the monogram JM in a square must also be ascribed to Merckelbagh. Besides, some sponsen (pricked stencils) from Tjallingii Pottery in Harlingen, which are in the Fries Museum in Leeuwarden, are signed 'Merckelbagh' or 'JM'. This discovery is an incentive to pursue further research into the connection between Merckelbagh and the Harlingen potteries.
Tile Plaques Resurface, Part 1
SS Lapland
Dr. W.S. van der Boor
The growth of intercontinental travel towards the end of the nineteenth century led to the construction of larger passenger liners, with luxurious saloons for first-class passengers. Many designs for ships' interiors by Harland & Wolff, the Belfast shipyard, were supplied by the firm of H.P. Mutters in The Hague, who ordered large one-piece coloured tile plaques from the Delft firm of Joost Thooft & Labouchère, also known as Porceleyne Fles Pottery (currently: Royal Delft).
In 1908, 31 of these plaques with townscapes in England, Belgium and the United States were supplied for the SS Lapland, which was in service till 1933 with the Red Star Shipping Company operating from Antwerp. The Newcastle and Plymouth plaques presented here must have been part of this order, though the whereabouts of the rest is still unknown.
Other tile plaques by Porceleyne Fles Pottery for ships' interiors will be discussed in two subsequent articles.
Rozenburg Pottery's Decorative Stoneware Tiles (1904-1914)
A Decade of Art Nouveau Architecture, Part 2
Arno Weltens
In the years 1904-1913 Rozenburg Pottery in The Hague produced a new type of weatherproof stoneware tile called 'gres', which is moisture-resistant. In recent years The Foundation for the Preservation of Dutch Art Nouveau Architecture has compiled an inventory of approximately 1,750 Art Nouveau buildings. This second article provides a complete, chronological survey of all the buildings in the inventory that still boast stoneware tiles made after 1908 in their façades. They are found all over the country, for instance in The Hague and Haarlem.
A supplementary list mentions applications of stoneware tiles in buildings that are not in the Art Nouveau style.
An Unknown Design by De Distel Pottery?
Villa Serphos in Enschede (1910)
Leon Brokers
The villa that Izak Serphos (1858-1920) had commissioned to be built in Enschede in 1910 was a Natural History Museum for seventy years after 1939. It was unoccupied for some time, then restored and now has a representative function for Hogeschool Saxion (Saxion University of Applied Sciences). It is a fine example of how a historical interior has been adapted to the requirements of present-day use while retaining original features.
The decorative tiling from around 1910 in the former bathroom and kitchen bears a striking resemblance to Bert Nienhuis' designs for De Distel Pottery from that time. However, these decors are not found in the catalogues known to us, which makes the attribution uncertain.
Frans Caignie: 'I'm the First to See Each Tile Now Excavated'
A Proud Citizen of Antwerp Discovers Tiles while Cycling in Friesland
Lejo Schenk
Editor Lejo Schenk interviews Frans Caignie, who since 1990 has made important contributions to the work of the Foundation of Friends of the Dutch Tile Museum. He is also a tireless researcher and documentalist of early tiles and maiolica produced in Antwerp.
Frans and his wife Hedwig met during their student days in Antwerp. They came into contact with tiles on cycling holidays in the north of the Netherlands. Frans started a modest collection, and in Otterlo became a member of the Friends and joined the committee. Among his achievements were setting up the European Ceramic Tile Circle, as well as starting Vriendennieuws (Friends' Newsletter), and the digital register of tiles in situ. After his committee period he focused on research into tiles produced in Antwerp. He has made a number of interesting discoveries and has developed a personal database documenting all the known early Antwerp tiles and fragments. He hopes to continue this work till 2020, the year of his 75th birthday.
Antwerp Plaques with House Names: 'The Seven Pansies' Retraced
Frans Caignie
The survey of Antwerp maiolica plaques with house names in Tegel 45 (2017) mentioned one plaque that was known only from the literature. An old photograph of the plaque in black and white was published in the article for the first time. It was unknown if this plaque, with the text 'Dit is in pense blom', had survived the demolition of the house on Sint-Jacobsmarkt 96 in 1971 and what its current location might be. Continued research into the family of the then proprietor, Stoelen, led to its present location and proper documentation.
The Tiled Floor at Fano: an Addendum
The Editors of Tegel
The maiolica tiled floor in the church of Santa Maria del Riposo (1503) at Fano, Italy, was described in Tegel 43. Around 1900 the tiles were sold, destroyed or stolen. The tiles that have survived are spread over many different collections. Claudio Paolinelli (University of Urbino) is documenting all the tiles he can find. A Dutch collector has now sent us photos of four tiles in his collection to add to this documentation.